It is a proud moment in any parents life when they witness their child cycling solo and unaided. It can be a wonderful bonding experience for the both of you and it is vital to ensure that their first bike is the correct one in order to make sure their learning experience is as trouble free and easy, and first of all, fun!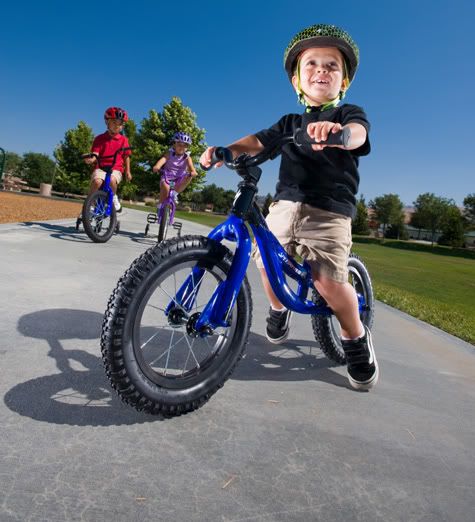 'Run Bikes' are an interesting concept and allow kids from as young as 18 months old to get to know the feel of a bike. There are numerous bicycle brands that make these bikes and they can vary in price. The Run Bike works by not adding any wheels, kids can learn to naturally keep them selves up right and learn balance by sitting and using their legs to pull them along and gliding once they pick up momentum.
It is crucial to ensure that your chosen learning bicycle is the correct size otherwise they will struggle to master their new found friend. It is wise to find a smooth and flat area of land to inspire the confidence needed to cycle successfully. The correct bike equipment is extremely important for your childs safety and we advise you to teach your kid to wear a helmet that fits them correctly at all times. When the two of you are ready to go steady the back of the bicycle seat with your hands and the middle of the handle bars to support the bike. You will be able to run along side as your child gets used to the pedalling motion. After much dedication and practice you will both soon be able to decide how much support they need and can slowly commence releasing the amount of aid you are giving them. You both need to make the decision to let go before they decide to cycle solo, letting go without warning could cause panic and altogether knock their confidence! Before you know it, you will be finding yourself looking into buying their first racing bike!